Exact dates and list of the topics
Time
Room 1
Room 2
Room 3
Monday
09:00 - 09:30
Interop Setup
09:30 - 18:00
Interop / Testing
Tuesday
09:00 - 18:00
Interop / Testing
Wednesday
09:00 - 12:00
Interop / Testing

Introduction to the Atlassian suite and new website.

This includes discussion of the workflows for specifications, ICS and software.




12:00 - 13:00
Lunch

13:00 - 14:50

Interop / Testing

Conventional Workgroup

Printing and Finishing

14:50 - 15:00

Break
15:00 - 18:00
Interop / Testing
XJDF, PrintTalk
20:00
Meet at Lobby, Walk to reception

20:00 - 25:00

Evening social event
Thursday
09:00 - 10:00

10:00 - 10:55

Content Creation WG

10:55 - 11:05

Break

11:05 - 12:00

Base, JMF, MIS ICS, Prepress ICS

12:00 - 13:00

Lunch

13:00 - 14:00

Digital Print

14:00 - 14:55

Wide Format WG

14:55 - 15:05

Break

15:05 - 18:00





Friday
09:00 - 09:55

Collaboration with IPP and PDF/VT

MetaData ICS for PDF/VT
Mapping to IPP

10:00 - 11:00

Pipe ICS

Wrap up

11:00 - 11:55

11:55 - 13:30

Break

13:30 - 17:00

TSC
| | |
| --- | --- |
| Lunch | Means time to get some food |
| Break | A small break between meetings and is for the smokers amongst us |
| Adhoc Meetings | Means meetings involving people that do not need to test, and people that others would not want to test with. Formal working group meetings MUST NOT be scheduled on Monday or Tuesday, MUST only be scheduled in the afternoon on Wednesday, MAY be scheduled all day on Thursday, and MUST only be scheduled in the morning on Friday. |
| E-Mail | Means that if you are doing your own work (E-Mail or otherwise), this is the room you must be in. The breakout rooms are only for active participation in the meetings. |
Evening Social event
Visit the Secret Pedrera
The magic of the night
When Antoni Gaudí was at the peak of his career, he designed La Pedrera, his last residential building. This is one of his most innovative landmarks and has become a work of art in its own right. The Casa Milà, popularly known as La Pedrera (Catalan for quarry), is a unique building designed by Antoni Gaudí (1852-1926) and built between 1906 and 1912. It was declared a UNESCO World Heritage Site in 1984.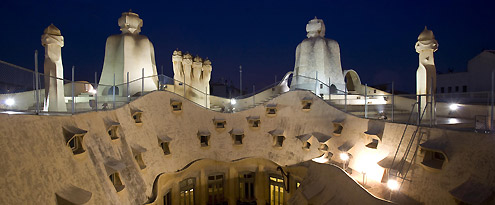 We will have a wonderful dinner there after the visit - it is working distance from the hotel which is just in the very center of Barcelona.
Please register for the social event at: http://www.cip4.org/intern/meetings/meeting_registration.php?mid=15051
Meeting Room
Meetings will be held at the hotel itself. We have two rooms, one larger for presentations, and one smaller for offline discussions.